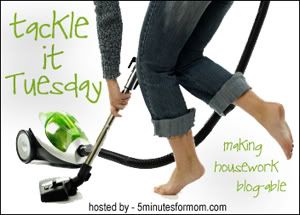 I actually don't feel like I had a very productive week. I was hoping to get the spice cupboard organized and I failed at that. However, I talked about my laundry problem last week and I'm proud to announce that I did continue with my laundry and have about 1 load left. That is by far the most shocking thing ever in my life!!!
Here's my HUGE tackle of the week and it has nothing to do with housework. I have been talking about one of my sisters from my father that I alienate myself from. You can read about it HERE. She's 15 and I came to the realization that she's a really sweet girl and I should try to start a relationship with her. She's 15 and that's such a hard time in life and it would be great if I could be a good role model. We both have the same dad and we both didn't grow up with him, well she kinda did. Anyways…. today I picked her up from school and we went to see a movie together. We had SO MUCH FUN!!! We saw 'What Happens In Vegas' and we laughed from the beginning all the way to the end.
It was such a big tackle for me and I feel good about myself for opening up to her and letting her in my life. I hope that this relationship will grow and I will soon feel like she is my sister, since technically she is.