Through my pregnancy I was absolutely terrified that this little girl would enter this world and I wouldn't be able to love her like I love Jayden and Ella.  I knew in my hear that this honestly in no way could even be possible, but I always had this small fear within me.
Aliyah came out and I thought WOW! She looks so much like Ella, and then I thought wait… she looks just like Jayden.  Then we discovered her eyebrows, eyes & nose are literally Jayden's features to the T!  Then her mouth and cheeks are Ella to the T.  I got this perfect little miracle that's both of my kids combined into one.
Oh, and that fear of not loving her the same way vanished the minute I heard her cry.  I am HEAD. OVER. HEELS. IN. LOVE!
Today Aliyah is 4 days old and she sleeps more than Ella & Jayden ever slept.  I don't know if this is because I'm nursing her instead of formula feeding.  Speaking of nursing, it's going amazingly well.  I've heard basically horror story after horror story and was pretty scared going into it, but am so glad I chose to go with it.  I don't have a horror story yet, and hopefully don't get one.  It doesn't hurt and she's loving it, and I never thought I'd say this but I'm loving it too.
Jayden is loving her and always says in the cutest voice, "She's just so adorable!"  Ella has amazingly not shown one ounce of jealousy towards her new baby sister.  I don't really understand why things are going to smoothly and why everyone is just perfectly happy, but they are and we are.
A little snippet about the day that I had Aliyah ~ 4 hours after I had her my mom showed up at the hospital with my children.  Ella walked in with this whole new attitude and I think I might have actually felt my heart break into two.  She didn't want to hug me, she didn't show any interest in her sister, all in all I thought it was going to be a horrible experience.  But then they handed Aliyah to Ella, and the look on her face in the pictures says so many things.  Most of all it shows the months and months of anticipation that Ella has gone through and finally being able to see her baby sister and hold her in her arms was everything to her.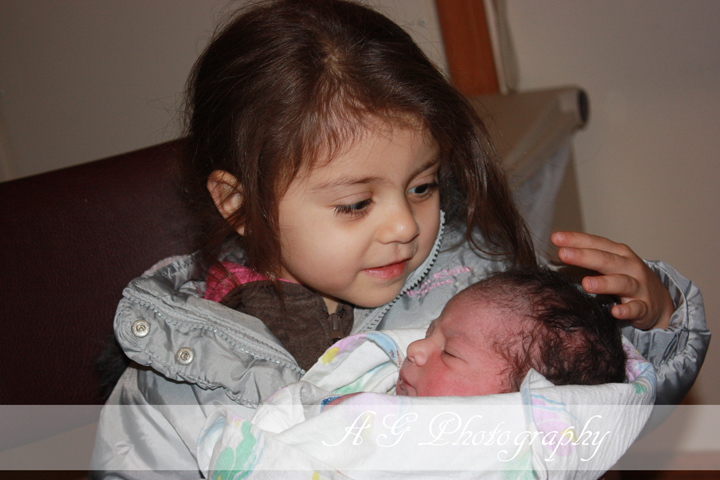 After analyzing her and realizing the reality of her having a baby sister she decided that she absolutely loves her and I think her face here pretty much screams that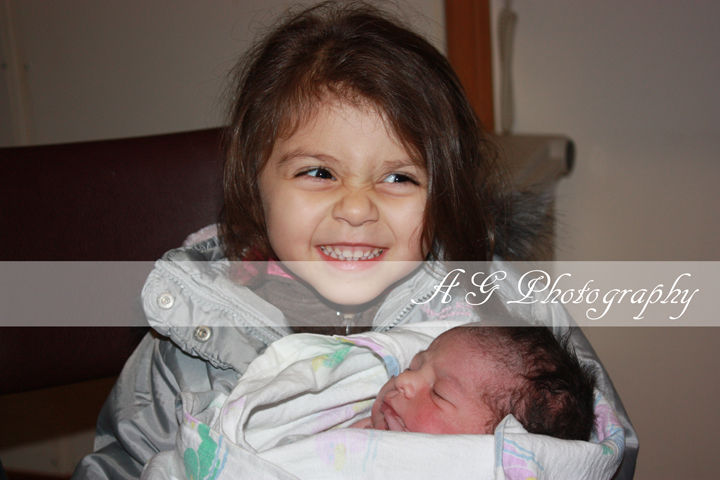 Then there's the superstar big brother. Jayden has melted my heart with not only Ella, but now Aliyah as well. I have this video of him at the hospital when he came to meet her and he's singing a lullaby to her. I have to say that I am beyond blessed to have Jayden as my son. He loves his sisters, and his love is so big that you can just feel it radiating off of him.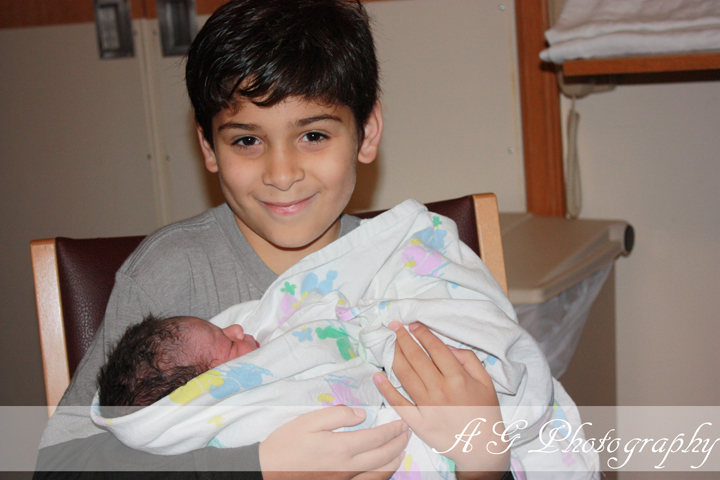 Gino and I are completely different this time around. With Jayden we were REALLY young and clueless, and didn't even really get along with each other. With Ella we were 110% more comfortable and better at the whole parenting thing since we'd been parents for 6 years already. This time around we feel like we're pros. She's just fit perfectly into the crazy little family life we have going on here, and I feel like we know even more on how to adjust to a newborn in our family. The only major difference this time around is I'm breastfeeding, but I'm actually finding that more enjoyable and easier than bottle feeding….. especially in the middle of the night.
I have had an over abundance of help between my husband and my amazing and beautiful friend that lives right next door.  Gino took a month off of work and I'm so sad that this next week is his last week off.  It's pretty much a subject that I don't really want to talk about too much, because I could cry.
I can't believe I have 3 kids!  I can't believe we're a family of 5!  I love it…. I have always wanted a big family and Gino and I are fulfilling OUR dream, and that's all that matters.  Here's our first family picture of us as a family of 5