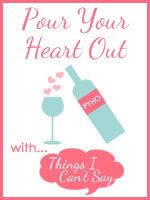 Believe it or not I hate drama. I say believe it or not, because it seems like we ALWAYS have drama going on with family. So I'm here to pour it all out.
I've never had a good relationship with my inlaws. They have this preconceived idea in their minds about me, and it's never changed. We've basically played fake with each other for the past 10 years. I've always known they didn't like me, and with how they've treated me in the past…. sadly, I've never respected them.
The thing that gets me is the act they've put on with how wonderful they've been to my husband and his brother….. the people gave them a place to live and THAT IS IS. That's not being a parent. What did they do to set them up for success in life? NOTHING. My husband turned 18 and for Christmas he got tubberware and basically a rush for him to move out so they could play house with his step-mom's real children. Did they prepare him for college? NOPE. But they have this attitude that they have done so much for them. Sorry, but the fact that his dad is biologically his dad he had no choice….. and doing the absolute minimum for your children is not what I would call a fantastic father.
But the above is not my opinion, the above is my husband's opinion. The above is how my husband has always felt. Marrying me and starting OUR family is where my husband has discovered what true parenting is really all about.
With that said – it seems that we are having a major issue here based on the fact that I wouldn't allow my inlaws to camp out and take over my entire downstairs area with their 2 big, teenage children and themselves…. sleeping on my couch and literally making it so there is nowhere comfortable to sit, 4 DAYS AFTER I GIVE BIRTH TO MY DAUGHTER. The comments of "I don't think you should even have to ask to visit family" makes me laugh. Um, I'm sorry you feel that way, but when you coming to visit actually means me basically not having a house then you bet your ass you're gonna ask if you can come visit. On normal circumstances, it's okay to come and visit and take over my entire downstairs of my house, of course with notice …. but 4 DAYS AFTER I GIVE BIRTH ~ I'm sorry, but even the idea entering your head that this would be okay is not okay to me.
I'm of course the devil who is brain washing my husband even though my husband is a grown man who has always had his own opinions on his family. He didn't need any brain washing from me. I can't help but giggle at the fact that they really think that.
To be honest, my husband I are so sick of family drama that we just can't do it. My family is filled with it, now his family is filled with it and it's just exhausting! Especially right after we have our baby and then her having to be admitted back into the hospital.
I can say this much…. moving to Oregon away from all of them was by far the smartest thing we ever did.