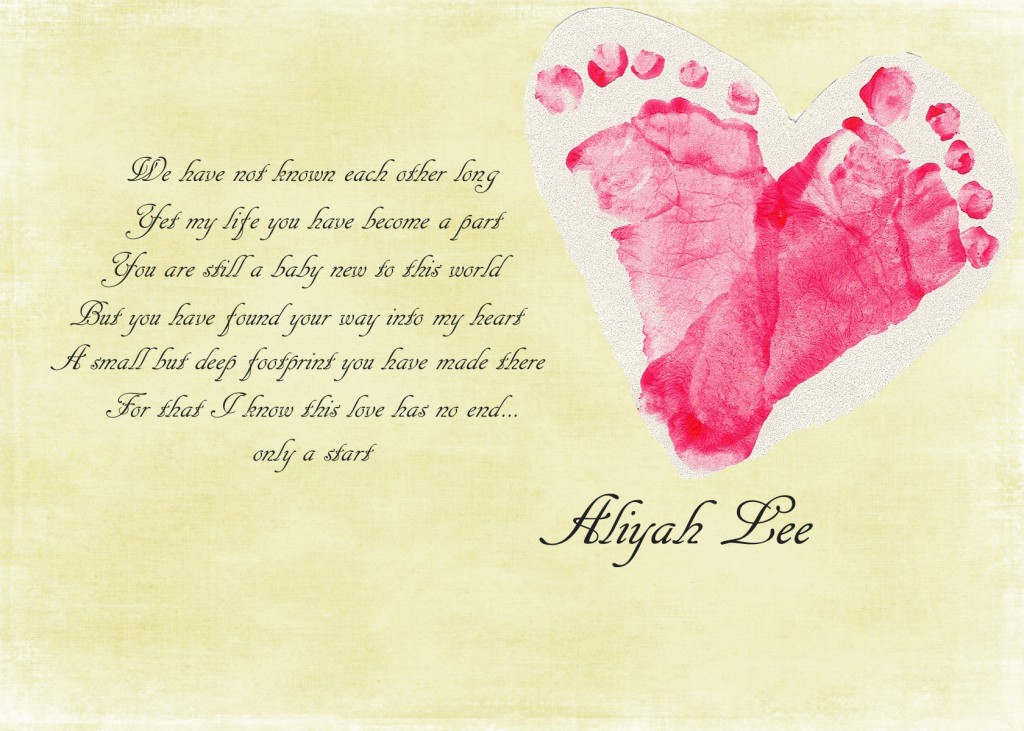 I took these beautiful feet print of my absolutely precious, beautiful, sweet blessing of a baby girl Aliyah for my Valentine's cards.  I couldn't stop staring at them and thinking……
I started thinking about when I lost Mya and how all I wanted was her feet print.  I remember the doctor coming into the recovery room after the operation and telling me, "I'm sorry we just couldn't get her feet print."  I felt at that moment that I had lost her all over again.  I still yearn for her precious little feet print.  I want to be able to look at them and see that she did exist.  I want to see the little prints that walked along my heart and forever changed who I am inside.
I walked into my closet yesterday and stared at the velvet bag that contains a box which contains an envelope with the remainder of her ashes that didn't get flushed down the toilet.  I felt like I was struggling to breathe inside thinking about how my daughter is in a box.  A box that sits next to my clothes.  A box that I try to pretend isn't there.  A box I'm scared to death to even open.
The thing that brings some sort of peace to my soul though is that she's not in that box.  I know with every ounce of my soul that she is a part of our family and that one day I will be able to hug her and tell her the things that I want to say.  I'll be able to touch her face, run my fingers through her hair and tell her that she is just as much my daughter as Ella & Aliyah are.  That while my life has continued on without her, I have never gone a day without thinking about her.
A few weeks ago Ella asked who Mya is.  We just told her that she is her sister that's in heaven, but I want her to know one day that Mya is her big sister who left this world so Ella could have a life in it, a life with us.  I want Ella to love her.
I like to think and say that it gets easier with time.  I don't know, maybe it does.  I am definitely a pro at hiding the feelings that are within my heart…. even from myself.  On days that I allow the sting to sting I feel it, and it's a wound that hurts just as much as the day I was told ~ her heart stopped beating.
……..I am so blessed for the two baby girls that I have been blessed with since the death of Mya along with their big brother.  I am so blessed that I have these beautiful feet print to look at along with the feet they belong to, so that I can kiss them and kiss them some more.